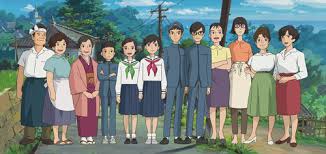 Successful collaboration is key to innovatively tackling complex challenges. I was reminded of this while watching a classic Studio Ghibli film, 'Up from Poppy Hill'. In the movie, young students get together to campaign and save an older building that they use for activity learning. It's a powerful reminder of the importance of successful collabs.
In my experience, successful collaboration makes us stronger, more resilient, and can lead to innovative solutions. One of my most enjoyable collab experiences was co-facilitating a leadership programme in London with my dream team that included facilitators Sue Sheehan, Wayne Trevor, fact guru Ben Longman and others. We focused on tackling local food poverty.
It was one of the most enjoyable experiences I've had… my dream team really. It inspired many action learning projects, including food growing on the fences of a local estate, London's first community fridge Freddy, and a community café.
I understand that overall, our actions made only a micro-contribution to resolving food poverty in our borough. But our actions were innovative, creative and impacted as much as was possible in the local borough that we live in. We raised awareness of food surplus, food poverty, engaged the local community in the solution and showed what can happen when people in varied food micro-organisations work together.
Freddie The Fridge survived until Covid and lockdown. For several years, local people and businesses dropped in healthy surplus food, and people who needed food on a no-budget basis were able to collect fresh food and meals every day. It was influential in the UK and internationally. I remember being on the underground, seeing someone holding a leaflet about Freddie. We got chatting. They were on holiday from Tokyo; they had included Freddie The Fridge on their travel itinerary. based on an article in a Tokyo newsletter! Freddie was also featured in the secret London guide by Hannah Robinson.
As a team, we created space for each of us to take part in enjoyable and practical roles, worked on our communication and team dynamics, and followed an evidence-based innovation roadmap. Four features made our team collab really successful:
Focusing on a real-life challenge – food poverty
Creating space for enjoyable and practical roles
Working on our communication and team dynamics
Following an evidence-based innovation roadmap – theory u
Collaboration is crucial in our complex times. If you want to learn more about collaboration and resilience, check out my book 'The Really Resilient Guide', which highlights the link between collaboration, well-being and sustainable resilience.
At The Learning Moment, Wayne Trevor and I work with UK organisations on leadership innovation and innovation coaching. Contact us so we can help you learn to innovate successfully.